At TechCORE MSS in addition to the IT and Professional Services that we provide to clients, our corporate policy includes a commitment to provide volunteer service to our local community, and we are especially pleased when that service can help to bring joy to children.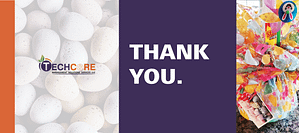 This month we at TechCORE MSS were excited to partner with Bethel Worship Center to assist with their efforts to make and deliver 200 Easter Baskets to local children. Gift baskets included Easter candy, children's books, toys and other Easter surprises. We continue to seek opportunities to demonstrate our commitment to serve others, and we were so happy to participate in this generous effort and to experience in a small way, the joy that brought "blessings" to the lives of those families and children.
Thank you to everyone who helped with this great project to bring Easter joy to our neighbors!!
Quanetta
President and CEO
April 2021